After a long time of research and discovery, Mr. Dang Hong Khoa, Director of Song Bill Co., Ltd., which owns the Dalat Newfarm brand, has successfully cultivated Cordyceps Militaris mushroom on silkworm pupa and biomass environment. .
Scientists in Vietnam and internationally have confirmed that Da Lat (Lam Dong) is also one of the regions with the best quality of cultured cordyceps in Vietnam today. Cordyceps products "made in Da Lat" are considered to contain many active ingredients that are good for health. Many products originating from Da Lat have been exported to foreign countries and have brands in many countries.
Referring to cordyceps in the kaleidoscopic city – Da Lat, the name Dalat Newfarm is certainly no stranger to those who care and use this product. For many years, Dalat Newfarm brand has always been evaluated as quality.
At the end of March, the reporter had the opportunity to come to Da Lat and meet Mr. Dang Hong Khoa, Director of Song Bill Vegetable Hoa Co., Ltd. It is known that this company owns a cordyceps brand called Dalat Newfarm.
While pouring a teapot made from golden cordyceps, Mr. Khoa told about his predestined relationship with the research and cultivation of this product. "It was in 2013, my relative was seriously ill, very weak in health. A friend of mine said that people should drink cordyceps mushrooms to improve their health. At that time, I also sold credit, so I bought some to try to stew meat for relatives to use. Then, after a period of use, my loved one's health stabilized again. Seeing that this product was so good, I started to research, learn and make it to this day," said Mr. Khoa.
After 10 years of working with cordyceps mushrooms, Mr. Khoa said that he is quite a difficult person for this job. He took care of and watched the growth of each cordyceps mushroom. He believes that this is a product to promote health, so it must be meticulous and careful in every stage.
It is known that Song Bill Vegetables Co., Ltd. owns the Dalat Newfarm brand, was established on September 30, 2014 and specializes in cultivating, producing and distributing Dalatnewfarm branded cordyceps to serve the needs of taking care of plants. consumers' health and beauty.
To achieve these, Mr. Khoa and his staff are always looking for the best seed sources along with a closed and advanced production process to create an absolutely safe and quality product, in order to achieve this goal. The goal is to serve customers in the best possible way.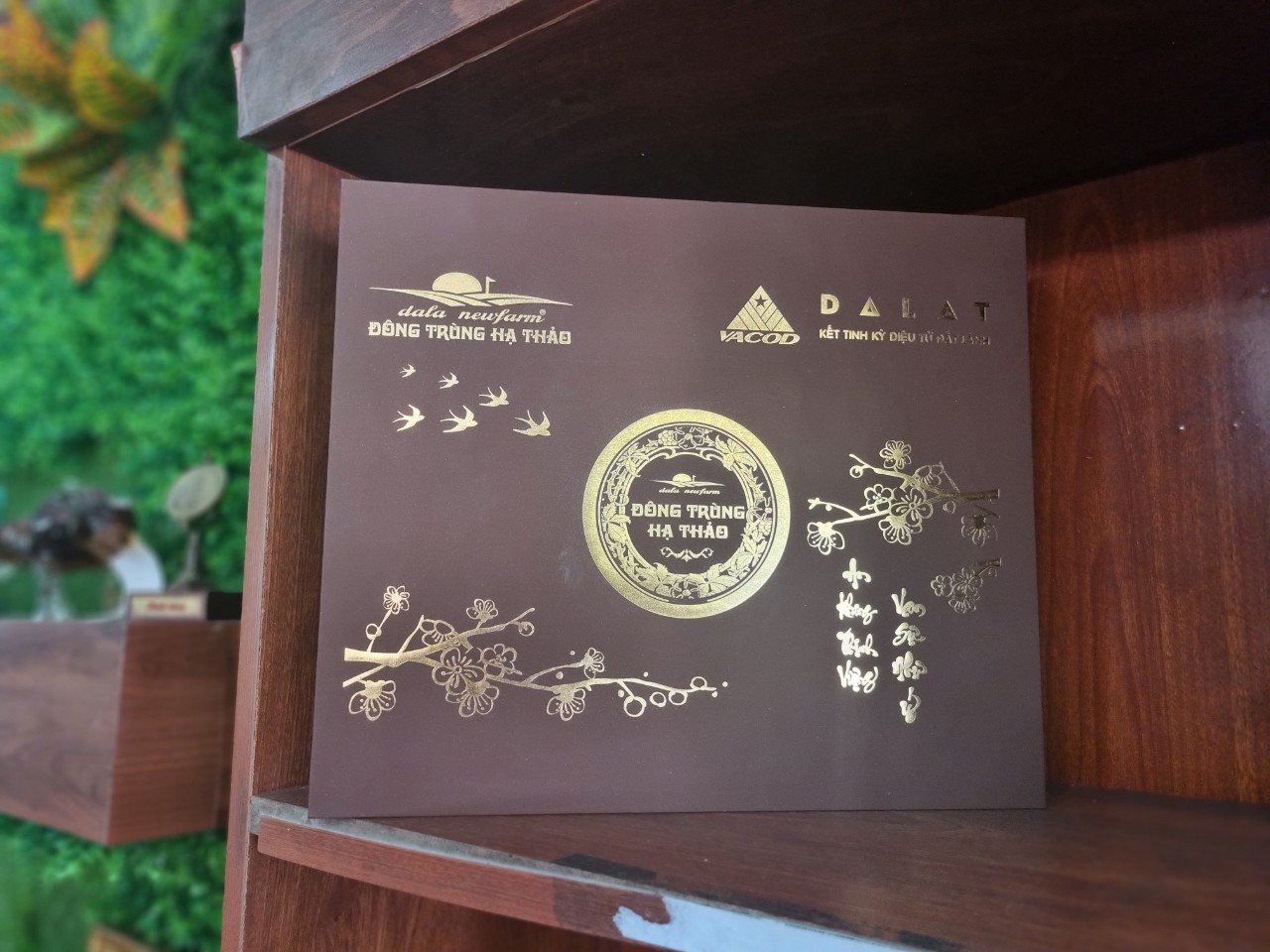 The director of the Dalat Newfarm brand shared: "Cycodyceps only bring the most optimal effect" to promote health and cure disease when it is a real product. With the favor of nature in Da Lat, after many years of research, Song Bill Flower Vegetable Co., Ltd, we have successfully cultivated cordyceps and have produced a very good rare medicinal herb. for health, with high quality and reasonable price. We are confident that we can meet the needs of the majority of customers."
The business activities of Song Bill Vegetable Co., Ltd. are propagation and distribution of cordyceps embryos, production and sales of fresh cordyceps, dried cordyceps, and cordyceps. powder, cordyceps wine and cordyceps honey.
Visiting the showroom of the Dalat Newfarm brand, the reporter was attracted and curious about the cordyceps product. Mr. Khoa explained: "After many years of research, we have successfully cultivated Cordyceps Militaris mushroom on silkworm pupa and biomass medium. The biomass medium includes brown rice, egg yolks, soybean sprouts, potatoes). Accordingly, the fungus will grow from silkworm pupae or biomass medium, about 7-10 cm long, with a yellow-orange color.
The owner of the Dalat Newfarm brand, Mr. Khoa, added that ordinary people consume this product to enhance their health, immunity, and disease prevention, especially cancer. In addition, those who are weak or ill can partially recover their health and boost their immune system by using it. This product is also beneficial for people with high blood pressure, high cholesterol, and diabetes.
Mr. Khoa stated that cultivating cordyceps militaris requires strict processes and environments. It involves a closed process from mushroom breeding, mushroom preservation, material fermentation, and then the implementation of inoculation and growth in chambers or net houses equipped with moisture control devices and automated pure water irrigation. What is special is that all production areas go through absolute disinfection systems, including an ultraviolet light system with adjustable power according to different time periods and different quantities of finished products.
"To get to where I am today, I have faced many difficulties and failures. Because I am not a biologist and have no understanding of this field. Therefore, in the early stages of receiving technology transfer, I struggled to grasp the techniques. There were times when the whole batch of mushrooms was spoiled and unusable due to not mastering the techniques. I believe that one should stand up where they fall, and with the encouragement of my wife, I try every day and have achieved success. Up to now, the dried caterpillar fungus cordyceps militaris product of my company, Song Bill, has been certified as a 4-star OCOP product by the People's Committee of Lam Dong province in the 2020 evaluation and distribution competition," said Director Dang Hong Khoa emotionally.
Rau Hoa Song Bill Company Limited owns the Dalat Newfarm brand, located at 267 Nguyen Tu Luc, Ward 8, Da Lat City, Lam Dong province.
Phone: 0965406969 – 02636286868
Email: dalatnewfarm@gmail.com